the net of pas de deux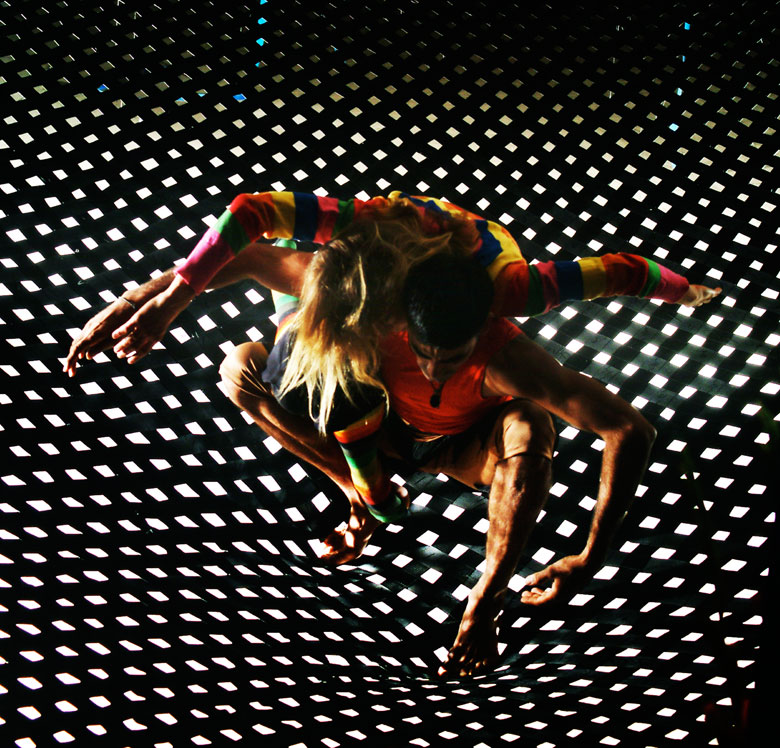 "THE NET of PAS DE DEUX" had its Exhibition Premiere at APEEJAY Media Gallery in New Delhi, and its Performance Premiere at Kamani Auditorium in New Delhi, in 2004. Further it has been on tour with Riksteatret, and shown in various festivals in Norway and Iceland, attaching the net over waterfalls, rivers, squares, and hanging from cranes.
''THE NET of PAS DE DEUX'' is a duet exploring the tension between life and death. A man and a woman; two poles, two worlds, are balancing in a synthesis of captivating and explosive movements on the surface of an elevated net; itself a huge art installation, altering the performance by surrounding the space using projected light, sound and live video. They are struggling between being a human being and an animal, being self destructive and divine, sacred and sinful. Guided by their desire, and driven in a constant creation of many little lives and deaths of oneself, they are willing to go into an adventure for the extreme, connecting the real image with the virtual image of our thoughts.
In "The Net of Pas De Deux" (2004), I started to work in collaboration with the dancer Sudesh Adhana on a totally new level, as the project was carried out on a 8×8 meter elevated net, which was hung in 19-degree angle. One of our main focus was that the net should have its own artistic expression. A central challenge was to treat the net as an art installation in combination with the performance. The project was first and foremost designed as a dance performance, but we also worked in collaboration with a visual artist (Ranbir Kaleka) and two video artists, the project was transformed as a mobile installation with live performers. This was performed at a gallery for new media art in New Delhi. Moreover, one of the basic ideas was that we should be able to attach the net anywhere, which resulted in performance in various places and locations: Experiencing the net as an installation inside a gallery (with video projection from premade footage and 2 live cameras simultaneously projected on the floor , and outside wall facing main road), as a performance in various theatres, inside a church, outdoor attaching the net over the two rivers, one waterfall, and a square. And in rehearsal, in a embassy garden, on a beach, and in enterprise areas – a German bunker, and a ship building enterprise, etc.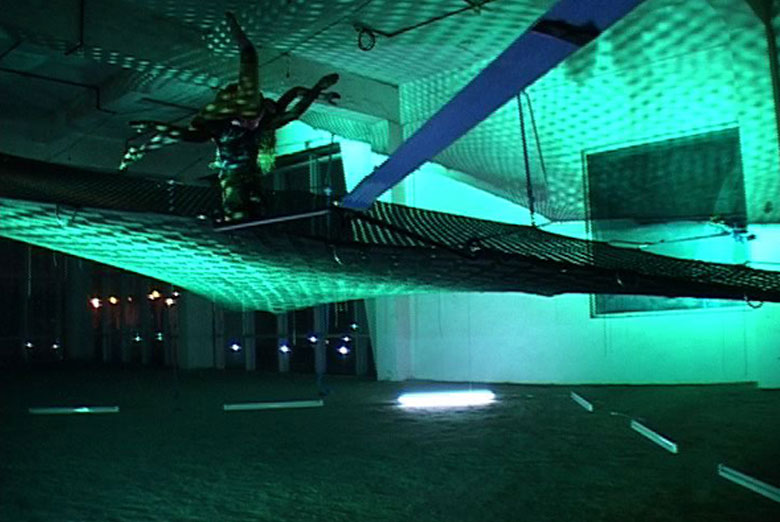 Picture from the Net at St Olavs Festival at Rica Nidelven Arena, Trondheim 2004.
Picture from Kamani Auditorium, New Delhi 2004
Picture from Elvelangsfestivalen, Nydalen, tour with Riksteatret 2005
Photo shoot with Carudutt Chitrak in New Delhi, 2004
Picture from Elvelangsfestivalen, Nydalen, tour with Riksteatret 2005
Picture from Elvelangsfestivalen, Nydalen, tour with Riksteatret 2005
Photo shoot with Carudutt Chitrak in New Delhi, 2004
Picture from Apeejay Media Gallery, Badarpur Border in New Delhi, 2004